Assam Voter ID Apply Online
National Voter's Service Portal (NVSP) of India is an online voter ID application portal. In this portal, eligible voters are able to register their names, submit applications for their voter ID cards, correction of voter ID, deletion of voter and many more. All eligible voters of Assam are able to submit their application to include their names in the electoral rolls. Online voter ID application process and required documentation details are discussed below.
Related: Assam Electors Verification Program
Assam Online New Voter Registration Details
Name of Portal: National Voter's Service Portal (NVSP)
Name of Department: Election Commission of India (ECI)
Eligibility Criteria:- A person who full fill below given eligibility criteria are able to register their name in Assam Voter Electors Roll.
Applicant must need to be a citizen of India.
Applicant's age must be 18 years old or above.
Applicant must need to be a resident of India.
Form Name: FORM 6 (Fresh Inclusion/ Enrolment)
Contents of a Voter ID
Unique Voter EPIC number
Your Photograph
Your Name, Relative Name, Address, etc
Your Constituency
Your Polling Station's Details
Documents Required for Assam Voter ID Card Application
There are total three types of documents needed to complete the online voter registration process of Assam. Applicants are strongly recommended to prepare these documents before submitting their application for registration.
Proof of Address (POA): Applicants are able to use various documents as Proof of Address (POA). POA is recognised and acceptable document to proof any person's residence or address. Below we listed acceptable form of POA in NVSP.
Indian Passport
Driving License
Bank/ Kisan/ Post Office Current Pass Book
Ration Card
Income Tax Assessment Order
Rent Agreement
Water Bill
Telephone Bill
Electricity Bill
Gas Connection Bill
Post/ Letter/ Mail delivered through India Postal Department
Age Proof: Applicants will be asked to upload their age proof certificate or document to prove their date of birth. Below are provided all documents will be acceptable as Age Proof document in NVSP.
Birth Certificate
Marksheet of class 10 or 8 or 5
Indian Passport
PAN Card
Driving License
Aadhar letter issued by UIDAI
Photograph: The applicant needs to provide his/ her recent passport size photograph to complete this voter ID registration process. Remember that the given photo will be appearing on electoral roll therefore choose a good and clear photograph.
Important Note: The applicant needs to unload above mentioned documents & photograph in .jpg or .jpeg file format and also reminds that the file size need to be within 2 MB.
Online Assam Voter ID Apply Guide
Eligible citizens of India are able to submit their application by following below given simple and easy steps. Online application need to be submitted 3 weeks before the polling date to be registered for upcoming poll.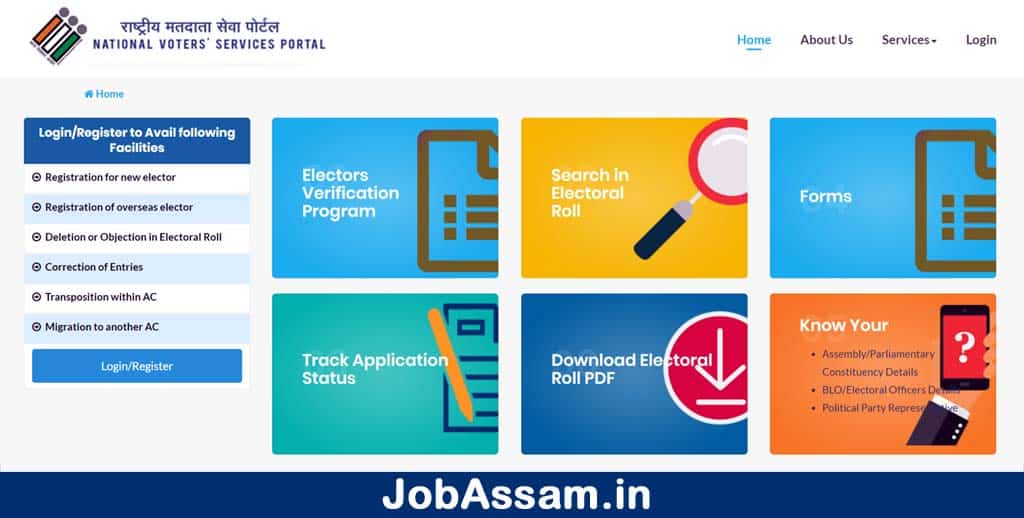 Scroll down, check Important Link's section.
Click on Assam Voter ID Apply Link, a new page will open in another tab.
If you are already registered then login with your credentials otherwise follow below steps to register.
To register applicant has to provide his/ her mobile number and need to verify that mobile number with OTP.
Click on I don't have EPIC Number, enter your all details & set password and click Register.
After that you will be redirected to login page, login with your newly generated credentials.
Click on left side's Fresh Inclusion/ Enrrolment link.
Complete your application by providing all asked details and documents.
After at the end click Submit application take print out of application and keep your application number to track its status.
Important Web Links for Assam Voter ID Apply