Voter List Assam 2021
Voter's list or Electoral Roll is a list of people who are eligible to participate in elections by voting. Every year Chief Electoral Officer, Assam releases voter list for Assam. Also, voter list and Voter's ID is a powerful document and it is used as Prof of Address as well as Prof of Identity. In this post we will show you the process of downloading a voter list of Assam through the official portal of CEOAssam. More details are discussed below.
Related: Assam Voter ID Apply Online
Voter List Assam 2021 Details
Name of Task: Download Voter List of Assam
Name of Organization: Office of the Chief Electoral Officer, Assam
Name of State: Assam
Total Nos of Districts: 33 Nos
Voter List File Type: PDF
File Size: ~4MB
How to Download Voter List Assam?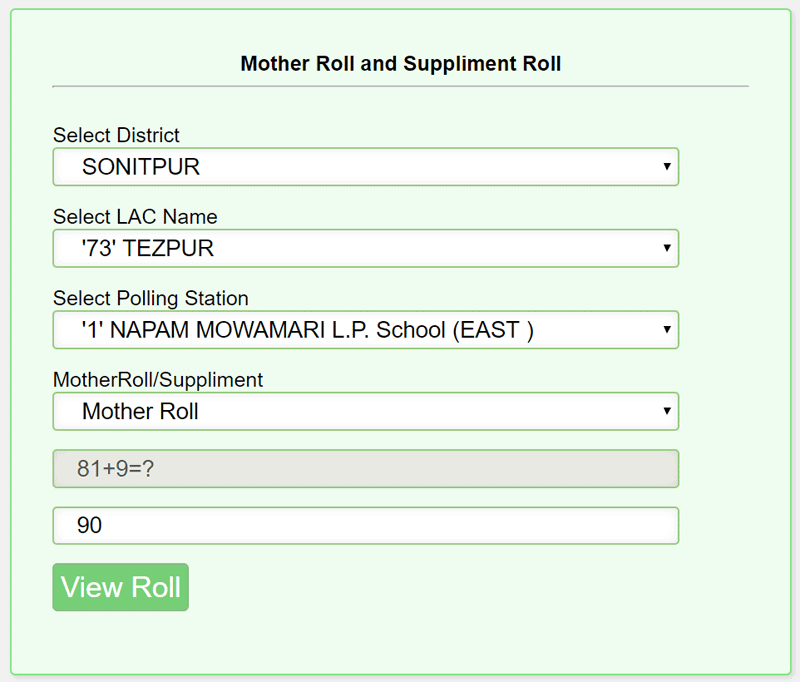 We have below shown the total procedure of downloading the voter's list of Assam including image. Just follow all steps as shown in picture to complete the downloading procedure of Assam Voter List.
Scroll down, check Important Link's section.
Click on Voter List Assam 2021 link.
A page will load, Select District.
Select LAC Name.
Select Polling Station.
Choose Mother Roll or Supplement Roll.
Complete captcha calculation and enter value.
After completing all steps click on green colored View Roll button.
Now, your desired voter list of Assam will be downloaded on your device.
Important Web Links of Voter List Assam
Frequently Asked Questions of Voter List Assam
1. What is a voter list?
A voter list is a type of list where election commission includes all eligible voters' names. All included voters are able to vote in elections.
2. How to download my voter list of Assam?
Okay, if you want to download your voter list, simply follow official website of CEOAssam or visit above given link and follow mentioned steps.
3. Is downloading voter list of Assam free of cost?
Yes, online downloading of voter list Assam is completely free just you need to have an internet connection.
4. Do these voter lists of Assam contain photos?
No, till now CEOAssam does not issued online voter list with photos. If you need a voter list with photo, contact with your BLO.