| | |
| --- | --- |
| List Name | Voters List |
| Issue Year | 2022 |
| Organization | Election Commission |
| State | Assam |
| Voter List Status | Available |
| Download Process | Online |
| Download Fee | Free |
| File Format | PDF |
Voter List Assam 2022
Voter's list or Electoral Roll is a list of people who are eligible to participate in elections by voting. Every year Chief Electoral Officer, Assam releases voter list for Assam. Also, voter list and Voter's ID is a powerful document and it is used as Prof of Address as well as Prof of Identity. In this post we will show you the process of downloading a voter list of Assam through the official portal of CEOAssam. More details are discussed below.
Related: Online Voter Registration of Assam
Voter List Assam Details
Name of List: Voter List of Assam
Year of Issue: 2022
Name of Organization: Office of the Chief Electoral Officer, Assam
Name of State: Assam
Total Nos of Districts: 33 Nos
Type of File: PDF
Size of File: ~4MB
How to Download Voter List of Assam?
Below, we have shown the total procedure of downloading the voter's list of Assam including images. Just follow all steps as shown in the picture to complete the downloading procedure on the Assam Voter List. Also, if you face any trouble while downloading the voter list of Assam, don't hesitate to comment below.
Scroll down, check Important Link's section.
Click on Download Voter List of Assam link.
A page will load, Select District.
Select LAC Name.
Select Polling Station.
Choose Mother Roll or Supplement Roll.
Complete captcha calculation and enter value.
After completing all steps click on green coloured View Roll button.
Now, your desired voter list of Assam will be downloaded on your device.
What Information will Require?
Users will need some information to download their voter list from the official portal of CEO, Assam. Users must keep the following details ready before proceeding for the voter list download process.
Name of their District.
Name of their Legislative Assembly Constituency (LAC).
Name of their Pooling Station.
Sometimes the server may not work properly due to heavy traffic or voter list renewal process. If you are facing server error, please try again after a few days.
Important Links of Assam Voter List
Video Guide to Download Voter List
Users, who are willing to download their voter list from the official portal of CEO, Assam, can follow the following attached video to complete the download process. We have uploaded a complete video guide regarding voter list on our official YouTube channel. Users can watch that video directly from below without leaving this page.
Official Voter List Download Portal
Office of the Chief Electoral Officer, Assam provides an online portal to download voter list of Assam. In that portal voters can download voter list of their desired polling station in a pdf for free of cost. In this section, we have provided a screenshot of that voter list download portal of Assam for our users reference.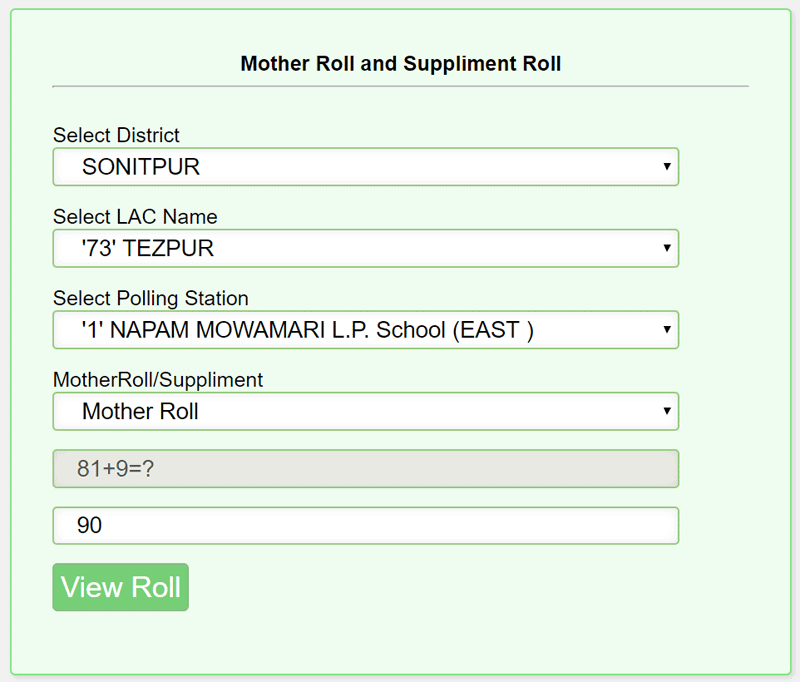 Sample Voter List of Assam
In online, voters are able to download the same type of voter list as attached below. Currently, the voter list downloaded online will not contain the photo of the voter, but all other details will be same as the offline copy of the voter list. We hope that the concerned department will make the photo attached voter list available through online in the near future.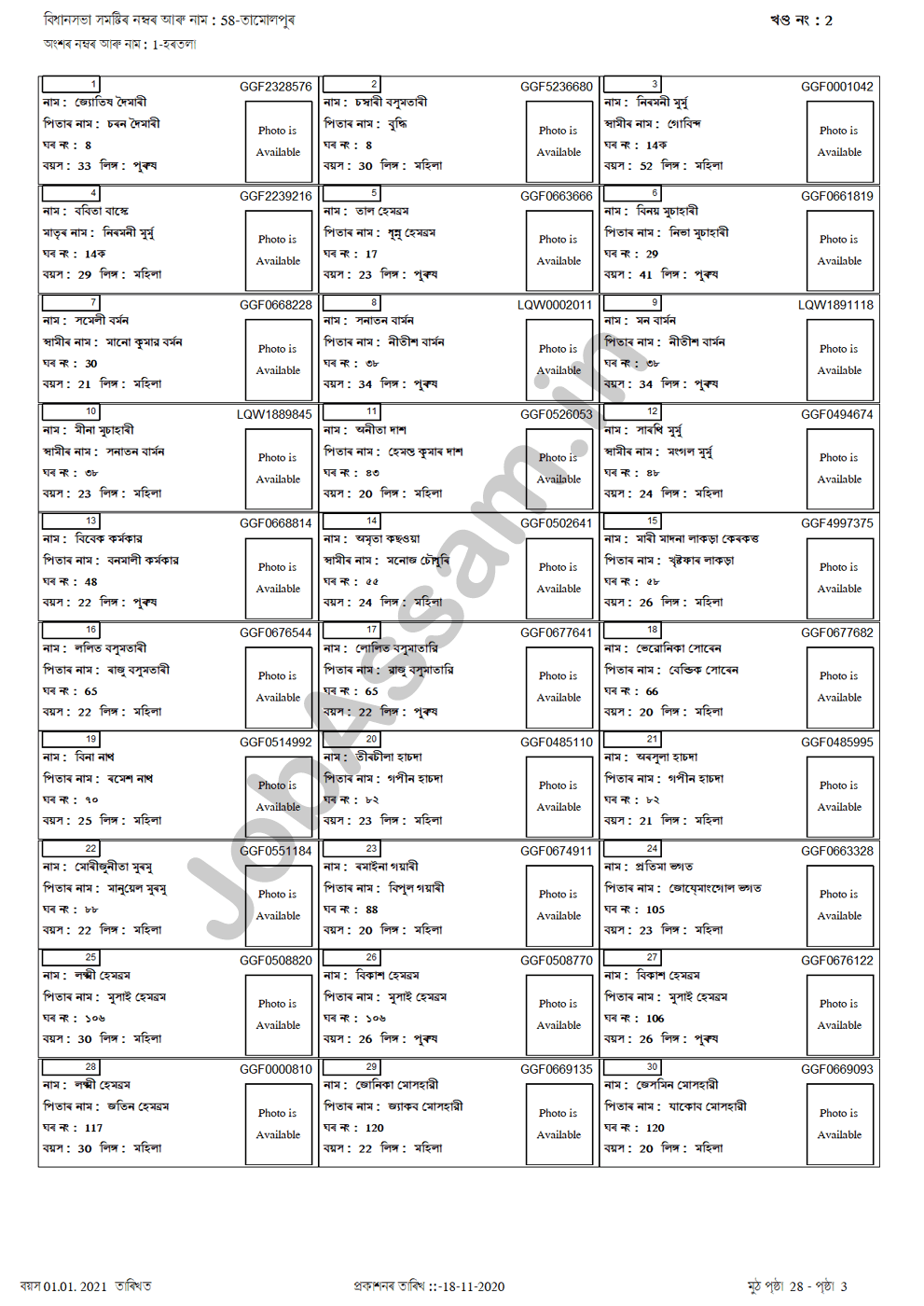 How to Download Assam Voter ID?
The Election Commission of India (ECI) added a new option in National Voters' Service Portal. The voters are able to download their e-EPIC from the official website of ECI. e-EPIC is a portable document format (PDF) version of the EPIC which can be downloaded on mobile or in a self-printable form on the computer. A voter can thus store the card on his/her mobile, upload it on DigiLocker or print it and self-laminate it. This is in addition to PCV EPIC being issued for fresh registration. Citizens of India may follow below provided steps to download their Voter ID.
Scroll up, check Important Link's section.
Click on Download Assam Voter ID link.
Register or Login on NVSP.
Enter EPIC Number or Form Reference Number.
Verify the OTP sent on the registered mobile number.
Click on Download e-EPIC.
How e-EPIC Benefits Citizen?
Alternate and faster mode of obtaining Electoral Photo Identity Card in a digital format.
Equally valid as a proof of document for voter identification.
Can be printed at the convenience of the voter and can bring it as proof during polling.
Self service model.
FAQs of Assam Voter List
What is Voter List?
Electoral Roll is a type of list where the names of all eligible voters are included in the Election Commission. All voters involved are able to vote in the election.
How do I download my voter list?
Well, if you want to download your voter list, just follow the official website of CEO, Assam or visit the above link and follow the mentioned steps.
Is Assam Voter List Download Free?
Yes, downloading voter list Assam online is completely free you just need to have internet connection.
Do these online voter lists have pictures?
No, yet CEOAssam has not released the online voter list with photos. If you want voter list with photo then contact your BLO