Pragyan Bharati Scheme
Government of Assam introduced an scheme named Pragyan Bharati Scheme, under this scheme government will provide Scooty to all girls students who secured 60 or above percentage of marks in last Higher Secondary examination conducted by AHSEC. SEBA, Assam developed an online application portal for Scooty and all eligible students can select their version of scooty by logging in the portal. More details and process of application is briefly described below.
| | |
| --- | --- |
| Application Process | Online |
| Last Date | 30-08-2020 |
Related: Assam Class 12th AHSEC Result 2020
Pragyan Bharati Scooty Scheme Details
Name of Scheme: Pragyan Bharati Scheme, 2020
Name of Organisation: Government of Assam
Eligibility: Girl students who have secured 60% and above in Higher Secondary Examination 2020 under ASHEC.
Award Content: Scooty (Petrol or Electric)
As per media reports, 22000 girl student will receive Scooty under this Scooty Scheme. Also, here we want to mentioned that the registration of Scooty need to be done by student individually. The process of distribution of Scooty will be done within 15th October 2020.
How to Online Apply for Scooty in Assam?
Students who are eligible as per above mentioned eligibilty criteria of this Scooty scheme of Assam need to follow below given steps to complete this application process.
Scroll down, check Important Link's section.
Click on Online Application of Scooty link.
After above step students will get a login form where students have to login to the system using their Roll No. as User ID and Registration No. as password.
After login, The details of the students like Candidate Name, Father's Name, District, Institution name where studied last, Total Marks will be available from the result data.
At the end, there will be two types of Scooty (e.g Electrically operated and Petrol operated) and the students have to mark their choice of variant.
Also, students has to provide their Address for communication along with Mobile No. and email id (if available).
On submitting the request online, student will get an acknowledgement slip for the same. Keep that slip for future reference.
Important Dates of Pragyan Bharati Scooty Scheme
Starting date of online application: 19th August 2020
Last date of online application: 30th August 2020
Important Links of Pragyan Bharati Scooty Scheme
Official Notification of Pragyan Bharati Scooty Scheme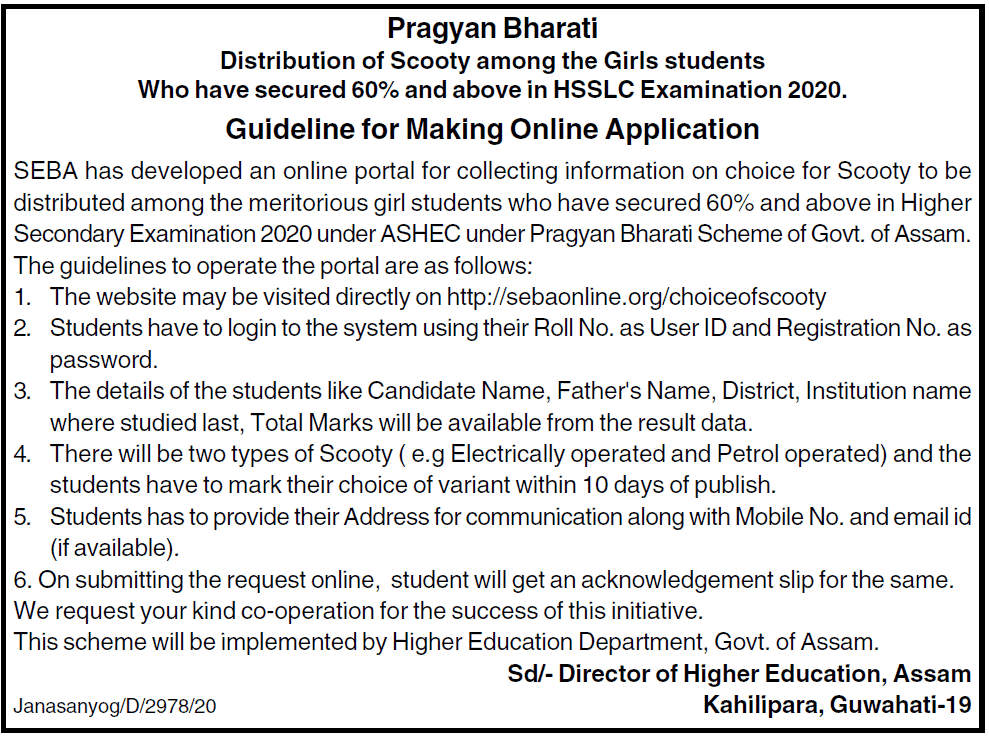 FAQs of Assam Pragyan Bharati Scooty Scheme
1. What is Pragyan Bharati Scooty Scheme?
Ans: This is a government scheme where government of Assam distribute Scooty to all girl students who secured 60% or more marks in last HS exam of AHSEC.
2. Who are eligible for Pragyan Bharati Scooty Scheme?
Ans: Only girl student having 60% or more marks in AHSEC HS Final Exam are eligible for this scheme.
3. What type of Scooty will be distributed?
Ans: As per media report, government will distribute two variants of Scooty which are Petrol variant and Electric variant.